Stumbled upon this while doing my research and realized how apt this execution was for my project on vertical gardens.
In short, this medium is all about producing a special blend of moss paint which once painted onto surfaces, will grow into moss text or moss paintings. Sounds great in theory. And this would be great if I could produce a painted poster which grows into moss, perfect to "sell" vertical gardens.
Edina Todoki started using this medium for her art project in New York. She tried to bring nature back in town.
Tokodi believes strongly that the reactions of passersby (or the lack of any reaction at all) is really an indicator of a deeper malaise that we need to pay attention to and reseed with "mentally healthy garden states" and direct interactive engagement.
The artist states: "I think that our distance from nature is already a cliché. City dwellers often have no relationship with animals or greenery. As a public artist I feel a sense of duty to draw attention to deficiencies in our everyday life. As a cultivator of eco-urban sensitivity, I usually go back to the sites to visit my "plants" or "moss", sometimes to repair them a bit, but nothing more generally as they tend to get enough water from the air, condensation, and rain – especially in certain seasons. I also like to let them live by themselves. From the moment I put them on the street they start to have their own life. For me, the [more...]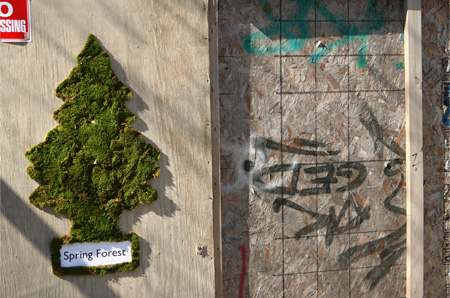 An other example by Anna Garforth who now works for Curb, a company specialized in natural media communication. More unconventional advertising can be found at http://www.designer-daily.com/unconventional-urban-marketing-techniques-3103
Apparently this is something called "moss graffiti" and is relatively new, creating quite a buzz on the internet. It is also a form of what's called green advertising.
Further research on moss graffiti brought me to a number of sites which teaches you the techniques to MAKING your own moss graffiti, moss paint and how to grow moss.